Isabel Seely and Gregory Buntain's initial encounter sounds like it could have been a storyline in the Love Actually script. As brand manager at Warby Parker, Isabel had been tasked with overseeing the company's first pop-up retail experience during the 2011 holiday season. "For two months, we took over a garage space in Soho and built it out to look like a market-it was called the Warby Parker Spectacle Bazaar," remembers Isabel. "Inside the space, we had two Mongolian yurts-one yurt was merchandized with Warby Parker glasses, and in the other yurt, we hosted a rotating cast of different designers, creatives, and local artisans. Greg's company, Fort Standard, was one of the vendors in the space for an entire week. Since the pop-up space was also serving as my office, we got to spend a lot of time together. On the last day, Greg gifted me a bottle of homemade cider with a custom label that read: 'Isabel, I'm going to miss spending time with you in your yurt home. Thanks for a great week! Maybe we can drink this together sometime?'' I thought it was a bold move, but it worked!"
The two had been dating for four years when Greg initiated the idea of planning a weekend away to celebrate both of their November birthdays with Isabel's brother and sister. "We booked this beautiful house in upstate New York, which I thought I had discovered online but, as it turns out, he had found all along," says Isabel. "We left early to get up to the house and get settled. He built a fire and as we sat on the sofa waiting for my sister to arrive, he asked me to marry him. Being a designer, he made a holly box to hold the beautiful emerald-cut ring, which he also designed with his friend and jewelry designer, Wing from Wwake. The bottom of the box has the date of the proposal and our initials stamped on it. I was so shocked I forgot to answer his question at first! But of course, I said, 'Yes!' Not long after, my sister and her boyfriend and my brother and his wife walked in the door. We called both of our parents and then called my sister who lives in Los Angeles. Within minutes of us speaking on the phone, she and her husband walked through the door. And then, Greg's brother and his girlfriend arrived from San Francisco an hour later! The 10 of us spent a really cozy weekend together. We're both so close with our families, and it meant so much to me to be surrounded by our siblings. Thinking back on our proposal, I still get giddy. He really planned the perfect weekend and I couldn't have been happier!"
Shortly thereafter, they turned their attention to planning. The two love to travel and really wanted their wedding to feel like a fun, relaxing vacation for their guests. "My family does a big trip over Christmas each year, and I had been looking to go to Kamalame Cay for some time," says Isabel. "When Greg and I decided we wanted to get married in the Bahamas because it was easy to get to and is a truly beautiful destination, I knew Kamalame was the spot! As we planned the wedding, we were lucky enough to spend a good amount of time on the island and fell even more in love with the place."
David Hew and Michael King own and run the island and helped the couple throughout the planning process. "The Hew family as a whole was incredibly hospitable during every visit-they had us over for family dinners, we explored the island together, and we got to know the staff intimately," says Isabel. "From the second we arrived, we felt entirely at home and knew we had made the right decision!"
One of Isabel and Greg's goals was to keep the wedding aesthetic natural and local. "We didn't want anything that felt like it was shipped in from New York to the Bahamas," says Isabel. "We also wanted each night of the weekend to feel a bit different, all leading up to an elegant evening under the canopy of the jungle."
Isabel embarked on all of this without a wedding planner. "My mom and I, with help from my sisters, did it together," she says. "My mom is an amazing interior designer, and we have the same taste, so it was so easy and fun! It also helps that Greg is a designer. I was lucky that he was so involved!" They also had help executing their vision from Kamalame's amazing staff; their coordinator, Donna; and their friends at Cays and Co.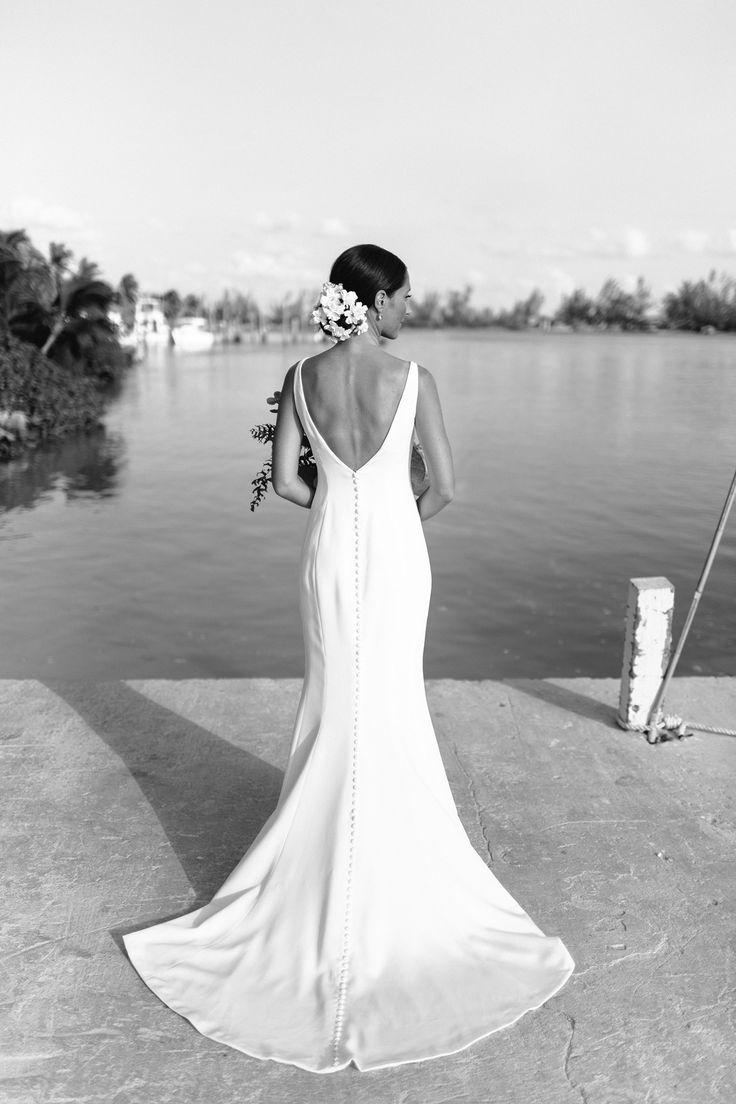 Figuring out what to wear wasn't as straightforward. "The wedding dress I eventually went with was not what I initially thought I wanted," admits Isabel. "I originally pictured myself in a bohemian, embroidered dress, but I fell in love with this Ines Di Santo gown at Bergdorf Goodman. Bergdorf was my last bridal appointment during a crazy day that had been spent hopping from one place to the next with my mom, soon-to-be mother-in-law, and my sisters. And, looking back, I couldn't be happier with it! It was comfortable, true to my style, and fit the Bahamian environment perfectly."
The bride planned the rest of her wardrobe meticulously and each night her look for the evening was more colorful and fun than the last in the lead up to the main event. The weekend kicked off with a welcome party, and Isabel wore a batik pencil skirt with a simple silk camisole by Lela Rose, Salihah Moore beaded earrings that Greg had given her before they'd left on the trip, and Ulla Johnson tassel heels. For the rehearsal dinner, the bride chose a light blue Zimmermann lace dress and beaded Valentino sandals. She kept her jewelry simple with diamond bar studs by Anne Sisteron. On her wedding day, she wanted to feel like herself so she did her own makeup. She wore her mother's diamond drop earrings that her sister in-law wore at her wedding as well. "She couldn't be with us in the Bahamas because she had just given birth to my adorable nephew Warner, so it was nice to have that shared element between us," says Isabel. "They were also my something borrowed, and it meant so much that they had been passed down."
The bride finished everything off with bright Altuzarra pom-pom heels. "My shoes were my favorite part!" says Isabel. "We had pom-pom details throughout the wedding, and these just felt so island-y. They were a bright pop of color under my dress, which I loved!
I also wore fresh flowers in my hair. My sisters helped me fasten them to my bun. Having their help was so special-I don't know what I'd do without them!"
Meanwhile, Greg was in a custom pink suit and designed a blue-and-white linen shirt, which all of his groomsmen also wore. "We wanted a sophisticated look and also to incorporate our island setting through touches of color and natural materials like linen," explains Isabel.
The ceremony took place on a pier that led into the ocean. Guests were given coconut water and rum drinks upon arrival and gathered at the end of the pier-some standing and some sitting-as the groomsmen took their place in front of a screen of natural greens and plants in terra-cotta pots. A steel drum band played "Sea of Love" as Isabel and her father made their entrance. "My dad was the biggest comfort to me as I walked down the aisle, excitedly approaching my handsome groom at the end!"
The bride's brother officiated the intimate ceremony. "He took his role very seriously and actually asked Greg and me to answer questions separately about each other, and then he incorporated our stories into his speech," says Isabel. "A lot of it came from our own words, but-of course-my brother incorporated his own funny elements and jokes in as well. It was truly so personal and touching-the most special gift he could give to Greg and me." The couple also included an element of a traditional Greek wedding ceremony-the Stefana, or crowns representing their union. "While it was not important to us to have a religious ceremony, Greg and I both wanted to weave our family traditions into the weekend," says Isabel. "Our Stefana now hang above our bed, just like my parents' Stefana hang above theirs."
After the two exchanged vows they wrote together, the newlyweds walked back down the aisle to the steel band playing "In the Jungle." "At the end of the aisle our wedding party and family rushed down to kiss and congratulate us!" says Isabel. The newlyweds then went off to take photos as guests continued to enjoy some more island drinks and steel drum music.
Throughout the evening, the bride and groom wanted each element of the night to expose guests to a different area of the island. "We chose the coconut grove for our dinner reception and designed one long serpentine table to seat all of our guests," says Isabel. "It was pretty incredible to have this one long, windy table through the jungle with big paper lanterns lighting the palm canopy above!" The table settings were kept very simple with natural leaves found on the island in different ornate glass vases and lots of votives. Isabel and her mom also designed custom napkins with mint green pom-pom trim to add a fun, unexpected detail. Each guests' name was hand-calligraphed on a tag tied around a small snow globe. "Growing up, my dad collected snow globes, so Greg and my dad custom-made tiny ones for each guest!" says Isabel. "The globe had a little palm tree on the inside with sand Greg had collected on our first trip to Kamalame. We wanted to pass along this family tradition to our guests, and it was made even more special because Greg made each one himself!"
Dinner was served family-style and paired with wine that had a lot of significance to the new couple. "Greg's parents started a beautiful tradition where they bought a case of bordeaux the year each of their sons was born to be opened at their wedding," says Isabel. "We shipped this wine to the Bahamas and got to enjoy it at our wedding dinner with his parents, brother, and my family. It was such special moment during the meal, and I really hope to pass the tradition along!" While everyone was seated, the father of the bride took the opportunity to toast the new couple. "It was beautiful, and to our surprise, he actually wrote it down in advance-he's known to be very off-the-cuff," says Isabel. "This was one of many moments that weekend when I was trying to hold back tears." After guests enjoyed mini key lime pies and rum cake, the newlyweds thanked everyone for joining them on such an incredible trip. Then, Greg surprised his bride with a toast of his own. "It was the first time he spoke about me as my husband and it was a very sweet moment," admits Isabel.
Afterward, guests followed the bride and groom down a small candlelit path to the beach for their first dance. Friend and musician Jonathon Linaberry (The Bones of JR Jones) performed the couple's song, one of his original pieces, called "Hearts Racing." "Everyone gathered around, resting in the sand, and watched our first dance together," says Isabel. "It was so romantic to be under the stars, dancing to our song. Then, everyone crowded on the dance floor and our amazing DJ, Kirk Duncombe, had us all moving for hours!"
"It was pretty surreal to all be in the dark, warm water together, with the music still playing and the tiki torches lighting our way!"
Tiki torches were set up in the ocean at the sand bar, lighting up the water, and eventually, Greg's best friend and his brother stripped down and went skinny-dipping. They grabbed the torches and beckoned for everyone else to join in. "It didn't take long before most of our guests were running in-some fully clothed, some not!-splashing around in the Caribbean," says Isabel. "I went in in my wedding dress surrounded by my husband in his suit, my family, and best friends! It was pretty surreal to all be in the dark, warm water together, with the music still playing and the tiki torches lighting our way! After the impromptu swimming, the Kamalame team brought out late night snacks and drinks, and we all continued dancing until the morning!"